Universal Roofing Solutions
Is It Better to Repair or Replace a Residential Roof?
Subscribe to Our Blog to Receive News & Updates
Ensuring the performance and health of your roof is a top priority for homeowners. Without a protective roof on the top of your house, you could face many issues and costs related to damage. But how do you know if your residential roof needs repairs or replacement? It all depends on the state of the roof, its life, materials, and more.
We've put together some tips to help you decide which path to take for your roof.
What to Consider When Deciding to Repair or Replace Your Residential Roof
Before you decide to repair or replace it, you'll need to evaluate it based on multiple variables.
Roof's Age
For shingle roofs, age is a significant factor in repairing or replacing them. The average longevity of three-table shingles is between 15 to 20 years. Some higher-rated materials that can withstand higher winds can last even longer.
The tell-tale signs of an aging roof include:
Curling or buckling shingles
Bald shingles
Missing shingles
Roof sagging
Moss growth
Those are the things a roofing contractor will be looking at to evaluate the current state of your roof. If all these things are present, replacement is often the best course.
How Long You'll Be Staying in the House
In contemplating repair or replacement, you should also consider your plans for staying in the home. If you plan to sell it soon, you may face pushback from would-be buyers if the roof isn't on its last legs. Investing in a new roof could also contribute to the property's value, making it more attractive on the market. According to Remodeling Mag's Cost vs. Value report, shingle roofing replacement has a 64.8% return.
If you aren't leaving your home any time soon, you may have a little longer to do a complete replacement. After the roofing company does an inspection, if they don't find any major issues, you can likely get by with some roof repairs. It's also a good time to talk with the roofing contractor about a maintenance schedule to extend the longevity of your roof.
Your Roofing Budget
If you're solely responsible for roofing repairs or replacement versus it being a property insurance claim, that can sway your decision. Repairs are, of course, less expensive than a replacement. In the long run, though, replacement could be the better value, especially if you've had numerous repairs on an aging roof.
There are several ways to pay for such a project. Some roofing companies offer financing. Another option is to use the equity in your home for the work.
Leaks Are Present
A leaky roof is the worst possible consequence of a failing roof. Depending on the severity and location of the leaks, you may need repairs or a new one. If the leaking is minimal and just in one area, a roofing company may be able to localize the repairs and eliminate the leaking.
If water damage is more widespread, roofing replacement is the best approach. You don't want to let a leaky roof keep leaking! It can cause all kinds of damage to the home's interior and walls.
Your Roof Is an Eyesore
While your roof is a functional part of your house, it also plays a role in aesthetics. If your roof is ruining your curb appeal because of missing shingles, discoloring, or growth, you'll need to call experts to assess the problem. Again, if the issues are prevalent across the roof, you'll likely find yourself in the category of replacement.
Repair or Replacement of Residential Roofs: We Do It All!
Whether your residential roof needs a few repairs or a complete replacement, Universal Roofing Solutions can handle the job. We're roofing experts and have over 20 years of experience caring for the roofs of Massachusetts homeowners. Request an inspection today to evaluate the health of your roof.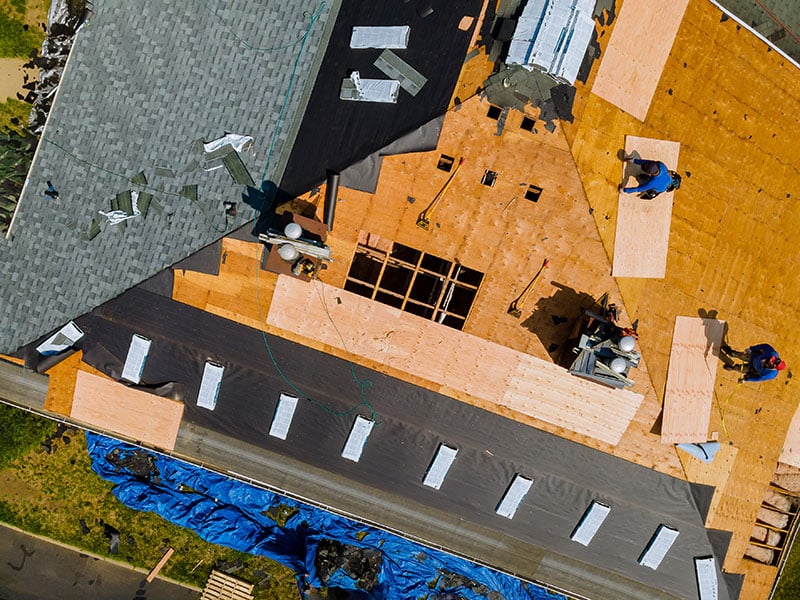 Request Roofing Estimate!
Call us at (781) 901-1203 or use the form below to request your free estimate!