Universal Roofing Solutions
What to Expect During a Roof Replacement
Subscribe to Our Blog to Receive News & Updates
Your roof and its health are very important to the integrity of your home. Without a well-performing roof, a lot can go wrong. To keep your roof in great shape and address any issues, you'll need to conduct regular roof inspections.
Roofing inspections by roofing experts will identify any existing or potential problems. If you've never had one done before, here are some insights into what you can expect.
Why You Need a Roof Inspection
Hiring a roofing contractor to perform an inspection could be due to many things. Maybe you saw a leak or noticed missing shingles after a storm. Those can be triggers for a roof inspection. You may also have to request one for insurance claim purposes. However, you should consider having an annual one so that your roof receives the maintenance it needs, which can extend its lifespan.
What's Included in a Roof Inspection?
A roof inspection typically involves several different areas of evaluation. Inspectors will look at structural integrity, roofing material, and the interior. Throughout the assessment, the inspector will make notes, take photos, and more. It starts with the structural inspection.
Structural Integrity Inspection
The structural inspection looks at the overall health of the roof system. The top thing an inspector looks for is any type of sagging based on the roof's planes. In this part of the inspection, the focus isn't on identifying damages or missing materials. Some of the tell-tale signs of roof sagging include:
Trusses with cracks, splinters, or rotting
Sagging ceilings
Missing or damaged collar or rafter ties
Tilted or leaning exterior walls
While on top of your roof, the inspector will also check out your soffit, gutters, and fascia. If you have skylights, vents, or chimneys, they'll inspect these too, looking at seals and any noticeable damage to these components.
Material Inspection
Next is the material inspection. Your roofing technician will be assessing shingles, underlays, flashing, and any other materials. The review will note damages or missing items. If rust, moss, mold, or water damage is apparent, that will also be part of the report. Further, the inspector will document any signs of leaking, cracking, or pest infestation.
Interior Inspection
The last part is the inspection inside of your home. In this process, the inspector is looking for any indications of damage that would manifest on the interior. They'll evaluate ceilings, attics, and walls. The most common things they would find are:
Water spots or stains on ceilings
Rotting wood
Mold or mildew
Holes in ceilings or walls
Daylight shining into the attic
Attic pests
Considering how complex roof inspections can be, hiring a professional is best. While you could do a cursory review yourself, being on top of your house may be risky. The ideal approach is to hire a pro and be there on-site so you can go through each of the areas of the inspection.
How to Interpret the Roof Inspection Report
After the roofing contractor goes through the entire inspection, you'll receive a report of what they found and recommendations for roof repairs. If you're getting an inspection done for insurance purposes, they'll need to review this as well.
At this time, you can ask the roofing company any questions about the type of repairs, how long they'll take, and what the costs are. Your roof is critically important to your home's performance, value, and integrity, so don't delay moving toward repairs or installation if that's the best course to take.
If you believe it's time for a roof inspection, contact our experts today to schedule yours at 781-390-9233.
Roofing Installation from the Experts at Universal Roofing Solutions
If your roof is in its last days, you can trust Universal Roofing Solutions. For years, we've been replacing roofs in Burlington, MA, and neighboring towns. We install asphalt shingle roofs the right way, so your new roof will last for years.
Request an estimate today to get started.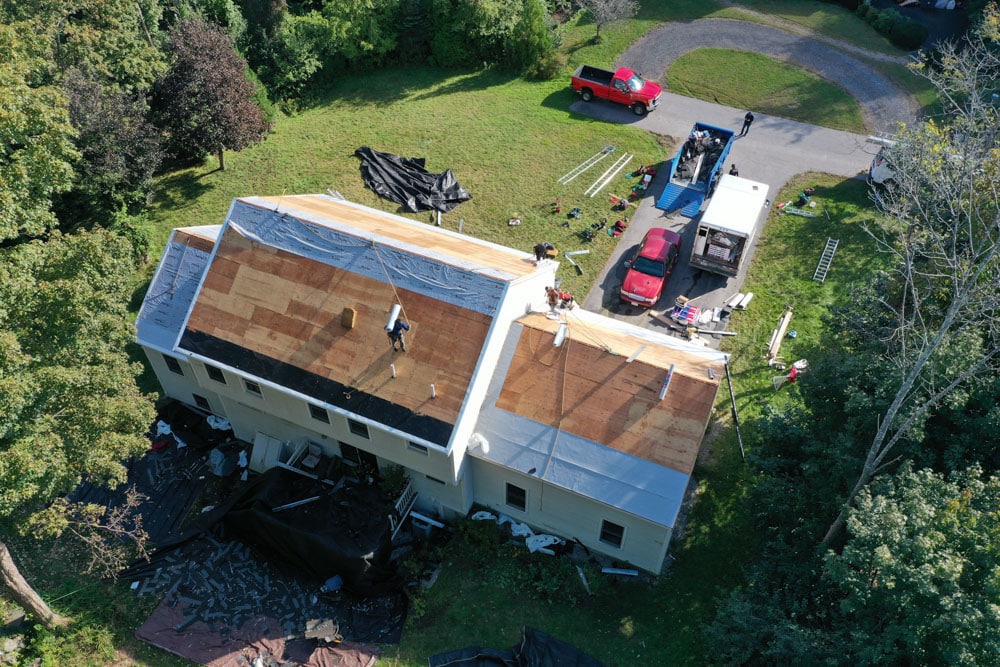 Request Roofing Estimate!
Call us at (781) 901-1203 or use the form below to request your free estimate!