Universal Roofing Solutions
What to Expect During a Roof Replacement
Subscribe to Our Blog to Receive News & Updates
A roof is one of the most critical parts of a house's exterior. It protects everything underneath it, but roofs don't last forever. Eventually, most homes will need a roof replacement. If that's where you currently find yourself, you'll want to know what to expect.
Inspecting and Assessing Your Existing Roof
First, your roofing contractor will thoroughly evaluate your current roof. During this appointment, roofing specialists will identify materials, damage, installation requirements, and measurements. How a company lays a new roof often creates problems down the road. Thus, it's essential to understand if any issues likely caused its deterioration.
Providing Estimates and Timelines
Next, you'll receive a detailed estimate and timeline for the roof replacement. You'll typically receive this within a few days of the first visit. It will also include the new material type and colors. You'll then review and compare if you solicit bids from multiple companies. Finally, after approval of the quote, you'll coordinate your installation dates for your roof replacement.
Pre-Installation To-Dos
Before the roofing company arrives, you'll want to make sure you do several things. First, confirm the material color choice so there's no mix-up. Second, you'll need to ready your property by clearing your driveway, exterior furniture, grills, yard lights, potted plants, or anything else that could be a hazard to workers.
Third, make sure that no other work will be happening during the roof replacement to ensure the safety of all. Fourth, if you have an attic, it's a good idea to cover items with tarps or move them altogether if possible.
The Installation Day Process
The day arrives for your roof replacement. Typically, the roof installation process includes a series of events. Material delivery occurs first. Then, roofers set up access to the roof by placing ladders in key areas. The crew will then cover your house with a tarp to protect the siding during the removal process. Keep in mind that you'll need to keep children and pets away from the area once the installation begins.
Roofers then remove all the old shingles and inspect the wood decking. If the technicians discover any rotted, soft, or wet wood, they will replace it with new. This is important because it's the base of your roof structure, and you want it to be solid and secure. A strong membrane ensures that shingles stay intact.
The installation then continues with the placement of other roofing underlayments that shield the decking from moisture. After the shields are in place, a layer of roofing felt goes on. After removal, repairs, and shielding, workers will begin installing the new roof.
Depending on the size and intricacy of the roof, the replacement work could be completed in one day. However, the larger and more complex, the greater likelihood it will be a multi-day project.
Post-Installation Clean-Up
After the roof installation is complete, clean-up begins. A magnet roller is a standard tool to find any nails in the driveway or yard. A gutter cleaning is part of this phase, as well. All debris and trash go into the on-site dumpster, which the company will remove after the job.
Before leaving the worksite, a final inspection of the new roof takes place. If inspectors identify any issues, they will address them. For a bird's eye view of your new roof, you'll receive drone images.
Roofing Replacement from the Experts at Universal Roofing Solutions
If your roof is in its last days, you can trust Universal Roofing Solutions. For years, we've been replacing roofs in Burlington, Mass., and surrounding areas. Our skilled roofers install the right way, so your new roof will last for years.
Request an estimate today to get started.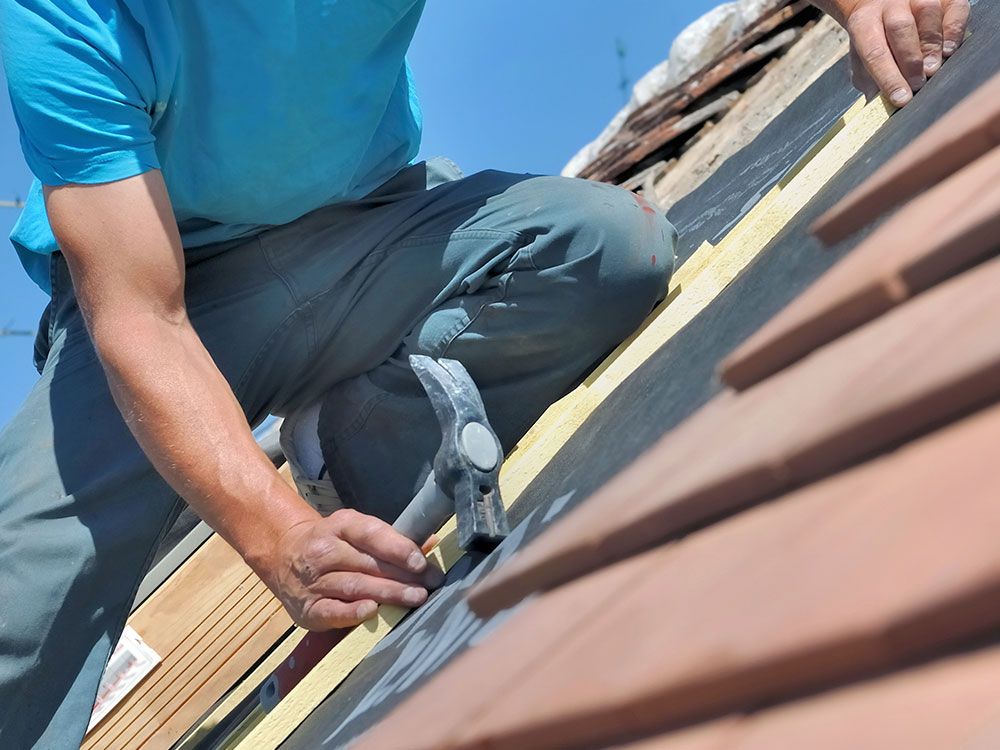 Request Roofing Estimate!
Call us at (781) 901-1203 or use the form below to request your free estimate!